Skip to content
Huckleberry Calamondin Marmalade
I am not a stalker, I am not a stalker, I am not a stalker. Ok. Let's be real here. I am a cookbook stalker, and my stalkee is the collection of cookbooks with Sara Remington's photos. It started innocently enough with a book here, and a book there. Now, I know better, and I can pretty much count on, before even checking the credit page, that the cookbook that I just picked up and coveted was shot by Sara. So when Sara herself told me that The Blue Chair Jam Cookbook was one of her favorites to shoot, it was only moments before my One-Click finger got busy.
And then, of all things, at the Tom Douglas Cookbook Social last week, who was at the next table? Rachel Saunders, Ms Blue Chair Fruit Company herself, the author of this gorgeous tome of jams, and she was just even lovelier than Sara's adorable photos made her out to be. (speaking of adorable, check out the photo on page 167… love!). And, she even bought copy of Doughnuts from me.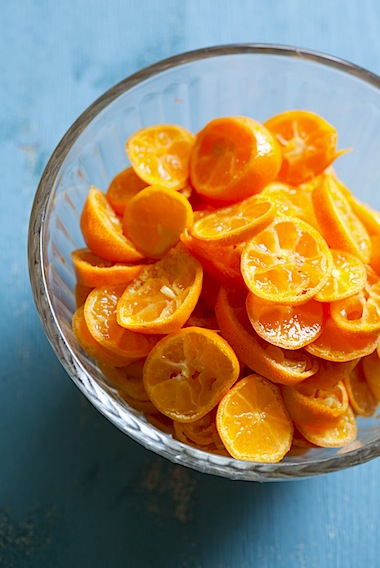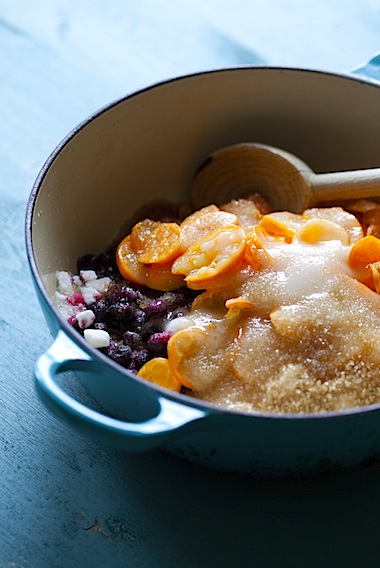 Making jams is one of those things that makes you feel like a kid playing scientist and I was one of those kids who played mad scientist a lot. I was always out collecting herbs or flowers and making my own "perfumes" (which was weird because I never was interested in wearing perfume). What I love about the Blue Chair Jam Cookbook (beyond the photos of course) is that it brings that same sense of wonder to each mixture… and encourages you to get the basic techniques of jamming, jellying and marmalading (is that really a word?) down so you can then make your own concoctions. That is just my style.
Particularly on days when I have a very large mishmash of left over fruits. This particular week, I had about 30 pounds of varying citrus fruits on hand. Mandarins, meyer lemons, Thai limes, yuzu lemons, pomelos, grapefruits, oro blanco, valencia oranges and quite a big bag of calamondin. Calamondin, if you haven't seen them before look like the manadarin version of a kumquat. They are so adorable, they fool you into thinking you want to just pop them into your mouth… but unless you are a big fan of tart, I wouldn't recommend it. Calamondin have the flavor of a lime, very very tart, with just a hint of sweetness. They make a fantastic mixer for tangy cocktails like mojitos or maragritas (or sans alcohol, make a very fine calamondin-ade). They also happen to be a fine choice for marmalade. The Blue Chair Jam Cookbook (henceforth known as BCJC) doesn't actually have a recipe for calamondin, but there are a considerable number of kumquat marmalades, so I started there. I was particularly struck by the recipe for a quick strawberry-kumquat marmalade (page 134) that cooks up in an afternoon (rather than the 3 day method that many of the other marmalades require). I thought I happened to have some strawberries in the freezer, but as it turns out, all I had were huckleberries and blueberries, which I decided would make a fine variation. And it was in fact, very fine indeed.
Huckleberry Calamondin Marmalade
This is a very simple marmalade that is sweet and tart, rather than the bitter you might normally associate with marmalade… a good thing if I want folks in my house to eat it.
2 1/2 pounds huckleberries or blueberries (or a combination)
1 1/2 pounds calamondin, sliced into thin rounds and seeds discarded
2 pounds cane sugar
5 1/2 ounces lemon juice
Place a couple of spoons in the freezer to use to test the marmalades doneness.
Add all the ingredients to a large non-reactive pot, and stir over medium low heat until well mixed and it starts to get a bit juicy. Gradually raise the heat to high, and continue to stir as the mixture comes to a rapid boil. If the mixture starts to stick to the bottom of the pot, turn down the heat a little, but keep it at a good boil.
Cook the mixture for about 15 minutes. The mixture will foam, and then start to darken. Start to test the mixture for doneness at this point, but taking a small spoonful with the frozen spoons. Return the full spoon to the freezer, and let it sit for a few minutes. Tilt the chilled mixture to see how it runs. If it runs quickly, then continue to cook the marmalade. If it runs slowly, your marmalade is ready. Test every 5 minutes until it is done. Give the mixture a gentle stir to distribute the fruit evenly, and then place in sterile jamming jars and process as directed by the manufacturer (I just store mine in the fridge).
This recipe makes 7 to 8, 8-ounce jars and can easily be halved (as I did).