I have very fuzzy memories of Mardi Gras. That's probably a pretty safe bet for most folks indulging in the celebration, but in my case it was less about the partying (which I did) and more about having a fever about 102F. This was quite a few years ago, long before Katrina, and I had arrived in New Orleans with just a bit of a tickle in my throat which quickly turned into a hazy fog of coughing, Dayquil, napping, hurricane cocktails, beads and dancing to Cher music. It's all blurred together into one big Mardi Gras soup in my brain.
I'd love to go back some year and really experience it, minus near delirium. But, this year, I'm more than satisfied with this big ole plate of beignets and chocolate chicory coffee fudge sauce.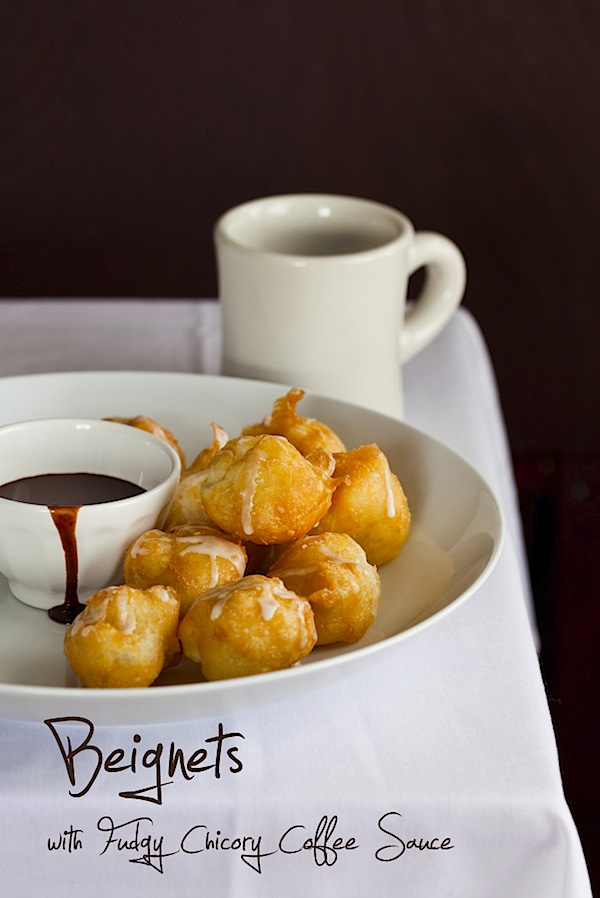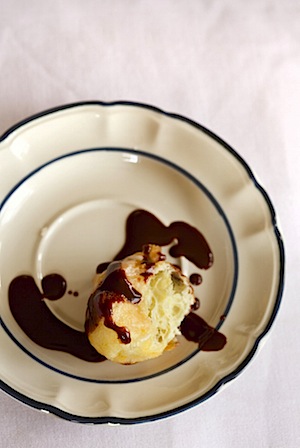 There are many different beignet recipes, some using yeast, but I prefer making them from the same pate a choux batter as the French Crullers in my book. They are much quicker to make than any yeasted dough and insanely light. Once you get the feel for how the egg gets incorporated, they are also very, very easy. Plus, if you don't want to fry, they bake beautifully.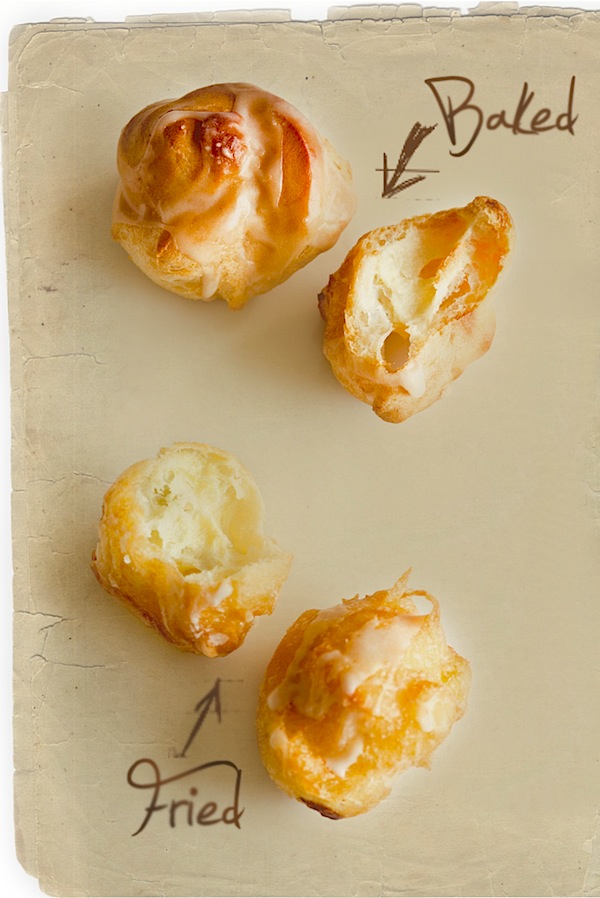 Of course, baked they are more akin to profiteroles than beignets, but I say to-may-to/to-mah-to. If you glaze them immediately, the "crust" you get from baking will be minimize. If you are using the recipe in the book, just pipe little rounds of about a heaping tablespoon, pushing down any little peaks with a moist finger. Since they are small, you'll want to bake them for less time.
If you don't have the book (why not!), this zeppole recipe is quite similar. For the sauce, I tweaked the Chocolate Fudge Sauce in this gorgeous Chocolate book.
Hope you have a wonderfully indulgent Mardi Gras!
Fudgy Chicory Coffee Sauce
You'll want to find a can of chicory and coffee for this recipe, although you can also substitute strong black coffee or espresso. I used French Market brand chicory and coffee.
The coffee flavor is very subtle, so feel free to adjust to your own tastes.
1/3 cup brewed chicory coffee
1/8 cup unsalted butter
1/2 cup heavy cream
1/2 cup brown sugar
4 ounces dark chocolate, chopped
Heat the coffee, butter, cream and sugar until the butter and sugar have melted, and the mixture is smooth. Add the chocolate, and remove from heat. Let the mixture sit for a couple of minutes to melt the chocolate. Then whisk until smooth. If the mixture has cooled too much before the chocolate has completely melted, return it to low heat and whisk continuously. You can serve it warm, or let it cool and thicken.