Can I just start with "Whew". The last couple of months have been a whirlwind, but as the holidays start to settle in, I'm finding myself finally with a some time to myself. Yeah! So what do I do? Well, once I got the marathon couch/Netflix time out of my system, I find myself back in the studio doing what I do. No real surprise there.
What is a little surprising is that despite a myriad of holiday shoots (like this one, this one, and a bunch of these. I particularly loved these cookies) and feasting on the leftovers, I still seem to be thinking about holiday treats. Like these gingerbread meringues.
I blame the What Katie Ate cookbook, and it's gorgeous chocolate meringue shot. Who isn't inspired to make a batch of those? But instead of chocolate, I thought a little seasonal spice would be a nice touch.
My meringue recipe is a bit of a blend of the meringue from What Katie Ate and recipe inspired by Ottolenghi in The Guardian, which toasts the sugar slightly before adding it to the egg white. To get a real gingerbread flavor, I used a bit of molasses along with a blend of cane and coconut sugars (although you could just use regular sugar for both). The meringues take on a lovely tan color, even before adding the spices. I like to add a little cocoa powder just barely folded in to add a little more mottling to the meringues. Mine got a little crinkly as they baked, but they were still light and delicious!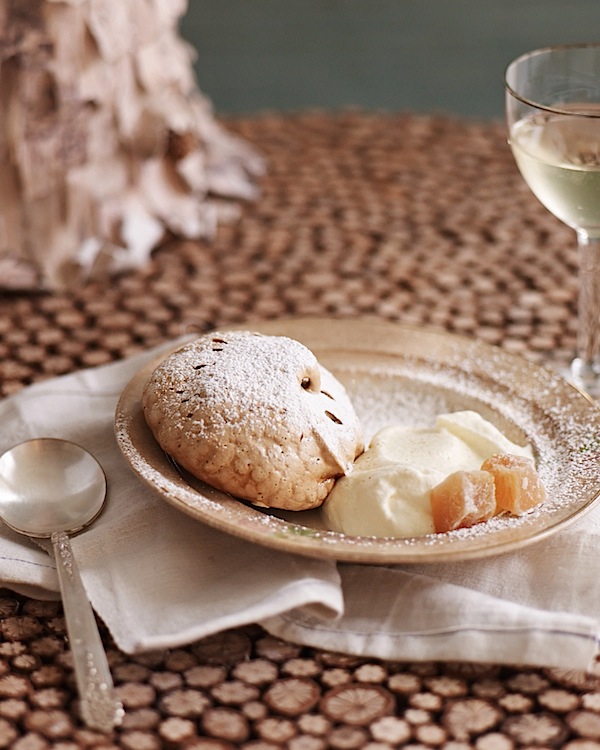 These meringues are good as they are, but also tasty with a little ginger and powdered sugar mixture sprinkled on top.
Gingerbread Meringues
1 teaspoon ground ginger
1/4 teaspoon ground cinnamon
1/4 teaspoon ground cloves
1 teaspoon dried orange peel
200 grams cane sugar
50 grams coconut sugar
2 tablespoons molasses
1 teaspoon lemon juice
5 egg whites
a pinch of salt
2 teaspoons unsweetened natural cocoa powder
Mix the ginger, cinnamon, cloves and orange peel together in a small bowl, making sure to break up any clumps.
Place the cane and coconut sugars on a parchment lined baking sheet, and cook for 8 minutes in a 375F oven. Reduce the heat to 250F.
Heat the molasses in the microwave for about 10 to 15 seconds until just warm… this will make them easier to pour.
Pour the lemon juice into the clean metal mixing bowl, and then wipe all around with a paper towel (this makes sure there are no residual oils in the bowl). Add the egg whites to the bowl. When there is only about 1 minute left of baking the sugar, start beating the egg whites on high speed. When the sugar is done, carefully remove it and pour it into the beating egg whites in a slow gradual stream (if you aren't using a stand mixer, you'll want a friend to help!) Drizzle in the molasses, and continue to beat until the mixture is glossy and holds a firm peak.
Fold in the spice until well blended, and then dust the top with sifted cocoa powder and fold only two or three times.
Line a two sheet pans with parchment, and drop large (a little less than a cup) dollops an inch or two apart. You'll have 10 to 12 meringues, depending on how big you make them (of course, you can make more, small ones if you prefer). Bake for an hour and a half at 250F until they are firm to the touch, and then turn off the oven, leaving the meringues in for another two hours to cool and dry completely.