Really, do I need to say more?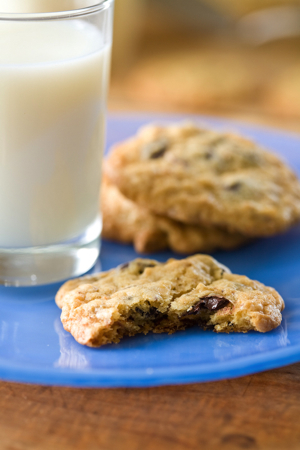 My cupboards are about to explode with little bags of this and little half canisters of that left over from my April shoots. I have chocolates chips in an array of shapes and colors. I have candied dried fruits and just about any nut you can name. I'm not sure what to do with it all… I shutter at the idea of throwing it away (even things, like banana chips that no one in my family likes), but I really don't have the room for it. So, when I started craving cookies today, I decided it was time to make a dent in at least some of it. Today's lucky remnants included a bag of Trader Joe's dried valencia oranges, a little can of Ginger People's candied ginger chips, some Dagoba choco-drops and some oats thrown in for good measure. The resulting cookies look deceptively like plain old Toll House, but the ginger gives each nibble a lingering little zing.
PS: A piece on sour cherries that I worked on last summer with Matthew and Dana is now on Gourmet.com, along with one of my photos. It's so exciting to seem my photo up there!
Everything Out Of the Cupboard Cookies
Makes about 24
1/2 c unsalted butter
1/2 c golden brown sugar
1/2 c granulated sugar
1 egg
2 t orange juice
1/2 t vanilla
1 c all purpose flour
1/2 t baking powder
1/2 t baking soda
pinch of salt
1/2 c oats
1/2 c dried orange pulp
1 t dried citrus zest
1/4 c candied ginger chips
1/2 c chocolate chips
Preheat the oven to 350F and line your baking sheets with parchment paper.
Cream the butter and both sugars until they are lightly fluffy, stopping the mixer a few times to scrape down the sides of the bowl.
In a separate bowl lightly mix the egg, orange juice and vanilla. Add, all at once, to the creamed butter and beat until it is pale and creamy.
Sift in the flour, baking powder, baking soda and salt. Stir until just combined.
Stir in the oats, orange pulp, citrus zest, ginger chips and chocolate chips.
Scoop little balls of dough, about 1/2 inch in diameter onto the baking sheet. Bake for 12-15 minutes, or until golden brown on the edges.
Let the cookies cool on a wire rack, if you can stand to wait.