Skip to content
Cream of Beet and Other Traveler's Tales
It's ok if you think I'm a bit crazy. Everyone else around me does too, because I've been excited– even to the point of giddy– about making up a batch of ice cream inspired by a recent trip to Il Laboratorio del Gelato. No one would begrudge me the ice cream part, certainly. It's the kind of ice cream. Beet ice cream. See, there's that look. Why would I go and ruin perfectly good cream and sugar with something as well, dirty-tasting, as beet? Maybe I am a bit nuts.
But then again, consider. Beet sugar is a highly used sugar in all kinds of sweets. And, even unrefined, I think it's hard to go wrong with a salad of roasted sliced beets and juicy sweet mandarin oranges. I've also done wacky things to great effect with beets before. Is it that much of a stretch to go to ice cream?
Anyway, let's back up a bit. Il Laboratorio del Gelato is in New York. Not Seattle. So how did that happen? Last weekend, we wrapped up the last vestiges of my birthday (which was back in April) with a trip to NYC for some eating, shopping, and well, more eating. We stayed in the lower eastside, at the Hotel on Rivington, which shoots up through blocks of vintage walk-ups and shops like bolted arugala. The entry way is a sculpted birth canal, which leads to a sleek, modern interior to match the shiny steely blue exterior. Rooms are minimalistic with crazy views if you get one of the upper rooms. Our room had a peak-a-boo view of the Manhattan bridge and a not-so peak-a-boo view of apartments, including from our shower.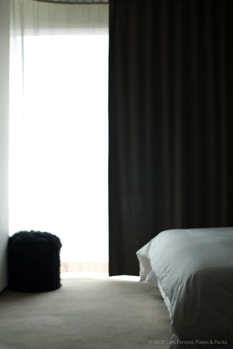 The hotel is right across from a place called Economy Candy. It's like candyland meets one of those old hardware stores. Shelves floor to ceiling with candy piled everywhere. Old classics like pop rocks and candy cigarettes. Fancy new chocolates. 3 feet long Twizzlers. Mints and gum and candy coated ants. I may be joking about that last one, but I'm really not sure. The smell from all the candy was pretty overwhelming, and the line was pretty long… so we moved on.
Since we arrived on Friday early evening, we kept it pretty simple. Dinner at Lupa, one of our favorites, with hand-made pasta followed by a couple of fantastic desserts… the tartufo (a huge chocolate covered ice cream ball with espresso poured over the top) for him and a black pepper panna cotta with rhubarb for me. It's not the panna cotta everyone would want, but it was fantastic… strong black pepper with perfect creamy finish.
We spent the better part of Saturday in Williamsburg, Brooklyn wandering our way down Bedford after a fantastic brunch at Bonita of huevos (with bacon!) for me and chiliquiles for Cam. We were on vacation, so sangria at 11 seemed like a good idea.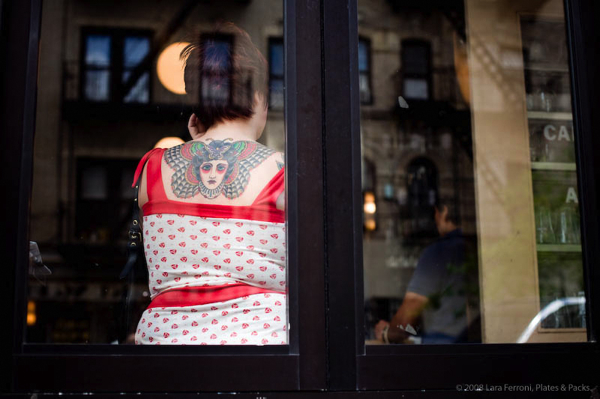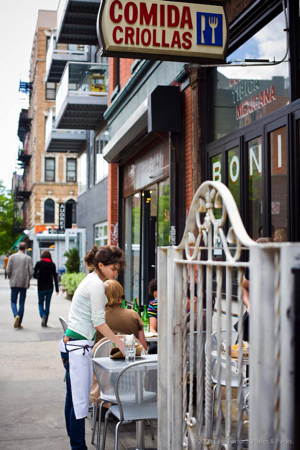 Then it was wandering the streets and people watching and enjoying the spring weather, until beer-o-clock.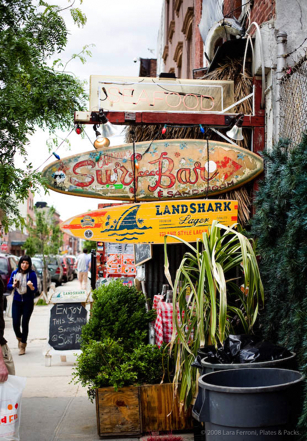 Saturday night, after a trip back to the Lower East Side wtih beers and yummy herby popcorn down the block from the hotel at Spitzer's Corner, we hopped back over the bridge to dinner in Williamsburg where we really loved the casual vibe. We were supposed to eat at Sweetwater that night, but based on a last minute recommendation, we stopped into Aurora, a packed Italian bistro tucked a few blocks away, and ate at the bar. I had one of the best raviolios I've ever had… fresh buffalo mozzerella, fava beans covered with razor thin slices of summer truffles. Cam's wild boar ragu was good, but not quite as appealing to him as the Amatraciana at Lupa the night before.
The next day, after a bit of a lie-in, we got up and walked down the street to Katz's deli, another of our regular stops when we visit NYC. It's touristy and completely chaotic, but you can't argue that their sandwiches are amazing. After lunch, there was more shopping in Soho. It was a gorgeous day of a holiday weekend, so the crowds were insane, but we managed to find a few side streets to wander that were a bit less crazy with some fascinating shops like Shoe which sells beautiful handmade shoes by Cydwoq (sidewalk) and relaxed and had an espresso at Gimme coffee on Mott St.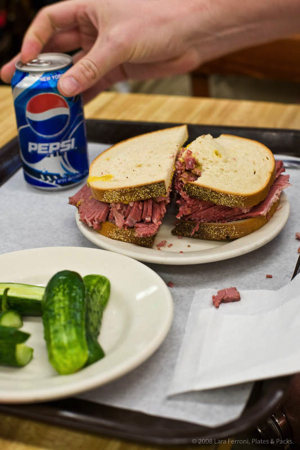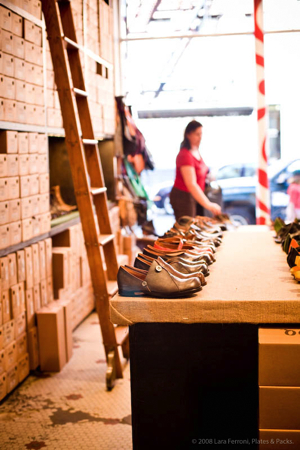 For dinner, we decided to just wander around to see what we saw. We thought about trying to get a table at WD-50 which was right around the corner from the hotel, but ended up popping into Tapeo 29 for some yummy tapas. I highly recommend the boquerones. The bistec was wonderfully flavorful, but a bit tough. After noshing there for a bit, Cam decided he was still hungry… so of all things, we headed back to Lupa for a little pasta and salad dessert.
The real dessert had come earlier in the day with the stop at Il Laboratorio del Gelato. I've written about this place before, but it's still as good as ever. And, this time, I got a bit more adveturesome in my flavors. I couldn't resist a taster spoon of the beet gelato. I wasn't sure what to expect, whether the beet would be subtle almost unidentifiable or not. Turns out, it's not. It's fresh and vibrant and packed with earthy beet flavor. I was intrigued, but not ready for a whole bowlful, so I got the olive oil gelato instead. But I almost immediately told Cam that I'd be making some beet ice cream when I got home. I wanted to play with this flavor… the cold beet was good, but I thought it really could use more flavors to fill it out. I started throwing out flavor combinations as we walked around… beet and chocolate chip, beet and cardamom, Meyer lemon beet. I would not be daunted by eye-rolls.
I was a bit daunted though at figuring out how to start. There were sadly no beet ice cream recipes in David's Perfect Scoop. I thought for sure he'd have done it already. And the only reference I found online was to an article about Il Laboratorio del Gelato. I'd be winging it.
I headed to the market to get my beets, picking up a bunch of golden and a bunch of red. The golden beet flavor I had already figured out… I wanted it to be bright and fresh with orange and honey. For the red beets, I knew I'd be playing with flavors. I dotted a plate with little blobs of beet puree like a painters palette and started tasting. Most of the flavors worked… beet and vanilla was lovely, as was beet and cardamom and beet and cinnamon. Beet and anise, however, was terrible. Finally, I decided on cinnamon with a hint of citrus.
As my beets roasted, I searched through Perfect Scoop to find the closest thing I could… a sweet potato ice cream that I'm also dying to try. The recipe is simple… basically adding the cream to the puree and seasoning, and then freezing. No eggs to bother with, and a bit more control of adding ingredients a bit at a time to find the right balance of sweet to bright to creamy and trying to keep the beet flavor intact, but not quite so aggressive.
One thing to know is that as flavors get cold, they change. Sweet isn't quite so sweet when frozen. My golden beets started out less sweet than their red cousins, and the beet flavor really shines through kicking the orange and honey out the door. It starts great and has a certain charm, but it is definitely not for everyone.
The crimson beet ice cream with cinnamon and lemon zest is almost otherworldly. The cinnamon jumps up and bites you in the nose as you open the tub. The color is startlingly fuscia. As the cream starts to melt in your mouth, the beet perks up and announces a big hello and how do you do. The earthy flavor lingers (maybe asking for a bit more sugar and lemon zest), but in a pleasant, "well, how about that" kind of way. Even still, it's not for every palate and even adventuresome mouths may only want small portions.
Beet Ice Cream
(a very rough recipe… you'll need to adjust based on the flavors of your beets. Just consider this a rough guideline).

Peel and chop the beets, and roast at 375F with a splash of olive oil for an hour or two until the beets are nice and soft. Puree the beets in a blender with a bit of liquid (orange juice works well… but red wine or port would be a nice touch with the red beets too) until very smooth, and then push through a fine sieve. You should end up with quite smooth puree that either looks a lot like ketchup or mustard, depending on your beet color. I was very tempted to forgo the whole ice cream project and just turn them into beet ketchups and mustards!
You'll end up with a lot of left over pulp. I saved mine and plan on making some beet-stuffed raviolis with it. Three large beets yielded about 1 cup of beet puree for me, with about the same amount of leftover pulp. That turned into enough ice cream for small servings for 4 people.
Let the beet puree cool to room temperature. Add your spices (cinnamon and zest from 1 lemon in my case for the red, the zest of two oranges and a splash of vanilla for my golden) and a healthy pinch of salt. Mix in honey or simple syrup until it seems a bit sweeter than you think it should be. Then, add your cream, a little at a time, stirring to incorporate. Taste it as you go along and adjust your sweetener accordingly. I used about 2 to 1 cream to sweetner ratio, and my ice cream was not too sweet. Then load the mixture up into your ice cream maker. Freeze overnight.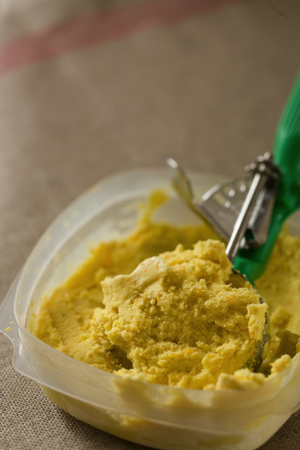 Let the ice cream sit at room temp for about 10 minutes or so before trying to serve it. I don't know if I got lucky or it has something to do with the texture of the beets, but not only the color of the ice cream was gorgeous, it also scooped like a dream.
---