Skip to content
Cheapo Styling Tricks: Color Backgrounds
One of my favorite tricks is to use a simple foam-core board as a background. Set just far enough away from the subject, it will appear as a nice clean wall and cut out any clutter that is in the room (and in my studio, that can be quite a bit). Even better, several years ago I found these great poster-sized paint samples by Yolo at Seattle's Ecohaus that have a bit of double sided tape on the back… perfect for attaching to a 2×3 sheet of foam board. Not only do they have a beautiful selection of colors, but the samples have texture to them, so they really look like a wall surface. And, they are only $5.99 each.
I've had a set of these for the past 4 years and used them extensively. A simple switch of a background color can make a huge difference in the feel of a shot.
My old sheets were starting to look a bit ratty, so I made a trip down to Ecohaus earlier this week and picked up 9 "new walls" for the studio… which all store away in the tiniest space between my cabinets. I'm in love with some of the new colors they are offering.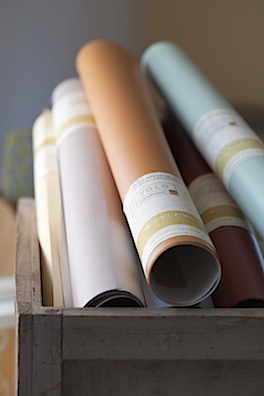 They work equally well beneath your subject.
Wallpaper would work great for this too! In fact, I'm particularly intrigued by the Madison & Grow papers. The samples are only $5, but I'm not sure how big they are.
PS: Something bizarro happened last time I upgraded WordPress and it deleted all of my categories… it's going to take a little while, but I should have things recategorized in the next couple of weeks. And, I'll be posting a new challenge for Flickr at the beginning of February.