If you have the opportunity, I highly recommend being friends with a farmer. Especially one that grows perfect heads of butterleaf lettuce like this: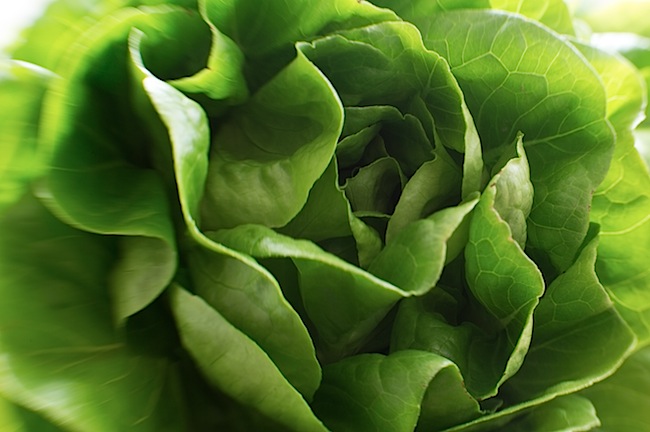 and brings you specialty crops like heirloom zucchetta to shoot for the food photography class you are teaching together online.Thanks Ron!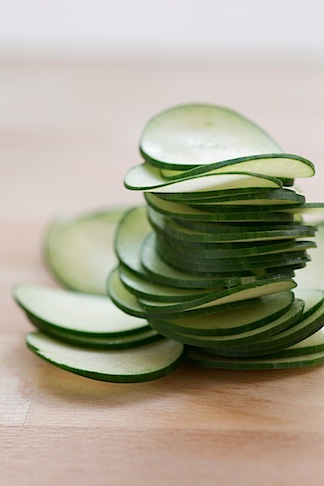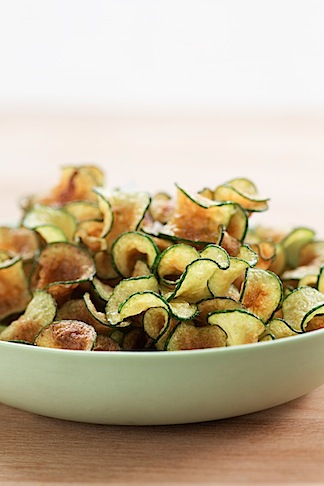 I also highly recommend having a client who grows apples, especially one that has you develop and shoot interesting new recipes with 12 different apple varieties.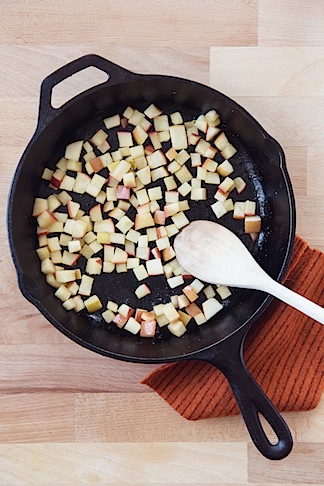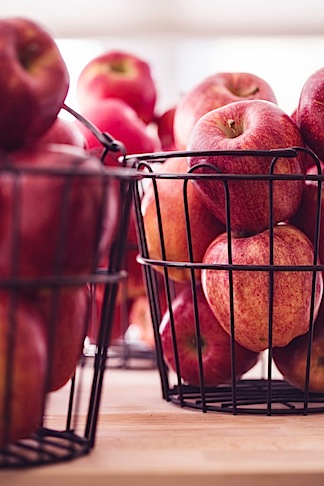 I can't share those recipes with you quite yet, but I do still have an abundance of apples. First, I made apple scones, just mixing in some diced fresh apple to my favorite cream scone recipe. I also made raw applesauce with peach. Apple pop-tarts with my pop tart recipe from my new book, Real Snacks (which I can hopefully share with you soon too!). And, of course, apple fritters. But, I still have a LOT more apples (Want some? Come on over!)
Today, I pulled out my friend Béa's gorgeous book, La Tartine Gourmande: Recipes for an Inspired Life for further inspiration. This book is truly a joy. Lovely flavor combinations and visual wow are artfully mixed in with Béa's charming life stories. Over the past several years, I've been lucky enough to spend several days with Béa and her family, and her spirit really rings through in this book. I excitedly await our trip next week to teach a food photography and styling class in France. But, with Béa's book in hand, I did not have to wait to start tasting her delicious dishes again. There were many choices with apples.
Today I chose to make the Upside Down Cranberry Cake recipe, which she notes that apples work very well in place of the cranberries. The cake pairs the complex flavors of gluten free flours (quinoa, brown rice and almond meal) with olive oil, vanilla and saffron Рan intriguing and delicious combination that do taste great with lightly saut̩ed Braeburn apples.
While Béa's recipe makes a 9-inch cake, I halved the recipe and made tea cakes in a cupcake tin instead. Delicious!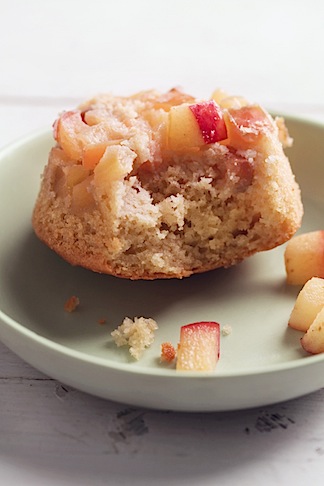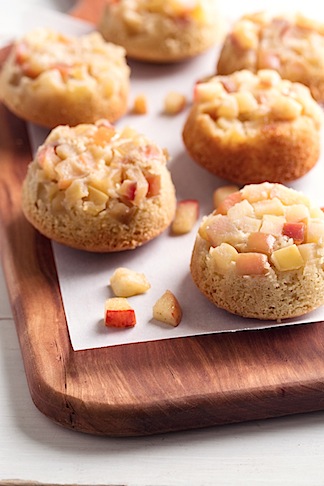 Of course, after reading through Béa's book, I really couldn't resist also making a little parfait as well. Simply sautéed apple slices, topped with honey sweetened yogurt, topped with a pistachio, cashew and thyme crumble. Yum!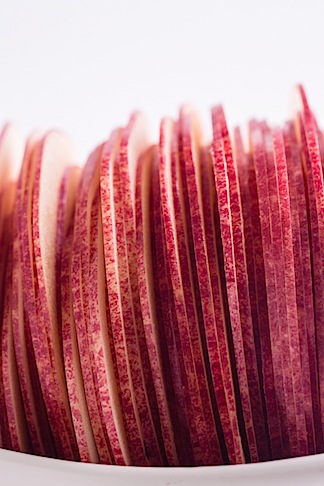 What are your favorite recipes for apples?
Upside Down Apple Tea Cakes
Adapted from La Tartine Gourmande by Béatrice Peltre
Makes 6 mini cakes
2 apples, cored and diced
1 tablespoon brown sugar
1 tablespoon unsalted butter
a pinch of salt
1/4 cup plain Greek yogurt
1/4 cup (50g) cane sugar
3 tablespoons olive oil
1 teaspoon vanilla extract
1/8 teaspoon saffron threads
1 large egg plus 1 egg white
1/4 cup (30g) quinoa flour
1/4 cup (45g) brown rice flour
3 tablespoons (20g) almond flour
1 tablespoon cornstarch
1 teaspoon baking powder
1/4 teaspoon baking soda
a pinch of salt
Preheat the oven to 350F and butter six cups of a regular sized muffin tin.
Melt the butter in a heavy bottomed skillet over medium heat, and add the apples, brown sugar and a pinch of salt. Stir occasionally to soften the apples slightly, about 2 minutes. Evenly distribute the cooked apples between the 6 cups of the muffin tin, and slightly push down with the back of a spoon to create an even layer.
In the bowl of a mixer, beat the yogurt with the sugar for 2 minutes until smooth. Stir in the olive oil, vanilla, saffron, egg and egg white and mix for another minute.
In a separate bowl, sift the quinoa flour, brown rice flour, almond flour, cornstarch, baking powder, baking soda and salt together. Stir the flour mixture into the yogurt mixture. Let the mixture sit for 5 minutes, then divide evenly between the 6 muffin tin cups.
Bake for 20 to 25 minutes, rotating the pan halfway through baking. Let the cakes cool in the tin for 10 minutes, and then invert onto a plate to remove (use a knife around the edge of the cups to loosen if necessary).